Have a traffic ticket?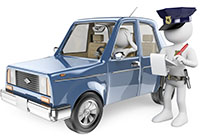 If you have a traffic ticket, W. J. Burgess Legal Services (WJBLS) can fight your ticket from start to finish including:
Filing your ticket with the court of jurisdiction
Attending as many court dates as may be required to resolve the matter
Obtaining disclosure on your behalf
Reviewing the disclosure with you and discussing your options for next steps
Preparing for trial, where required
Why fight a traffic ticket?
The legislation governing traffic offences in Ontario is the Highway Traffic Act, R.S.O. 1990, c. H.8 and its associated Ontario Regulations (commonly referred to as O. Regs.)
Driver's Licence Record, Insurance Rates, and Demerit Points
A plea of guilty or a finding of guilt ("a conviction") for traffic tickets you receive will be recorded on your driver's licence by the Ministry of Transportation and will often increase your motor vehicle insurance rates, in addition to the fines you will have to pay for such convictions.
In many cases, it is in your best interest to fight your traffic tickets to have the ticket withdrawn or the charge, fines and/or demerit points reduced to save you money, keep insurance rates lower, and save demerit points.
Reg. 339/94 regulates the demerit point system in Ontario.Depending on the type of driver's licence you have (full licence, new driver e.g. G1, G2) the number of demerit points you have can subject you to a possible driver's licence suspension.
Some of the most common Highway Traffic Act offences that carry demerit points are:
| | |
| --- | --- |
| HTA Offence Description* | Demerit Points |
| Failing to obey signs | 2 |
| Driver failing to wear seat belt | 2 |
| Driving while holding or using handheld device | 3 |
| Exceeding the speed limit by 16 to 29 km/hour | 3 |
| Exceeding the speed limit by 30 to 49 km/hour | 4 |
| Following too closely | 4 |
| Failing to stop at an unprotected railway crossing (bus drivers only) | 5 |
| Exceeding speed limit by 50 km/h or more (stunt or racing) | 6 |
| Careless driving | 6 |
| Failing to remain at the scene of an accident | 7 |
| Driver failing to stop when signalled or requested to stop by a police officer | 7 |
*This listing is for illustrative informational purposes only and does not represent an exhaustive listing of all HTA offences that carry demerit points.
More information on demerit points and penalties for demerit points can be found at: https://www.ontario.ca/page/understanding-demerit-points
Why use a paralegal to represent me in court when I can do it myself?
Well, as one of my colleagues and mentors said, "You can cut your own hair too, but do you?" Maybe you do. Another way of looking at it is, you can change the oil in your car, but typically you take your car to someone who is a licensed professional with more experience than you have.
Attending court dates can be difficult to navigate and consume your valuable time, including having to take time off work to attend court. Additionally, the provincial offence courts are extremely busy and desire as much efficiency as possible in their proceedings.  Typically, these courts permit cases where a legal representative has been retained to be heard first. Then they hear the cases from members of the public who are self-represented. Although this may seem inequitable, the courts recognize that representatives are paid by their clients to be in court. The court respects that your money is valuable and do not want you to have to pay for a representative to sit in court longer than necessary for your case to be heard.
Traffic Court Locations
| | | |
| --- | --- | --- |
| Court Name/link | Address | Phone |
| Newmarket Court | 465 Davis Drive, Suite 200, Newmarket, ON, L3Y 7T9 | 905-898-0425 |
| Richmond Hill Court | 50 High Tech Road, 1st floor, Richmond, ON, L4B 4N7 | 905-762-2105 |
| Toronto East Court | 1530 Markham Road, Main Floor, Scarborough, ON, M1B 3M4 | 416-338-7320 |
| Toronto South Court | Old City Hall, 60 Queen Street West, Toronto, ON | 416-338-7320 |
| Toronto West Court | York Civic Centre, 2700 Eglinton Avenue West, Toronto, M6M 1V1 | 416-338-7320 |
| Whitby (Durham) Court | 605 Rossland Road East, Lower Level, Whitby, ON, L1N 0B3 | 905-668-3130 |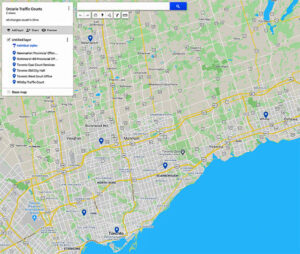 Click Map for Details